Service Center
When you find the car of your dreams, you want to keep it in top condition for years to come -- and that includes regular maintenance and service. At Scott Volvo Cars Allentown, we pride ourselves on providing you with a cutting-edge service center that can handle any questions or concerns you might have.
Whether you're looking for an oil change, routine maintenance, or need major repairs after a collision, we can help. Read on to find out about some of the services we offer, and why drivers from Allentown, Bethlehem, Nazareth, and Emmaus trust us to keep their cars running smoothly!
Complimentary Service Program
At our service center, we're proud to offer you a comprehensive complimentary service program that makes getting your car in great condition faster and easier than ever. When you visit our service center, you get a personal service contact. They'll guide you patiently through every step of the process, so you always know exactly what's going on with your beloved vehicle.
And whenever you get service with us, you're entitled to a free software upgrade. We'll run a quick diagnostics check to see if your technology is up to date, then provide you with the upgrades you need to maximize your driving experience.
Once your car is driving great, you'll want it to look great too. That's why every time we service your vehicle, we provide you with a thorough car wash. You'll be amazed by how good your car looks, and your freshly cleaned automobile is sure to turn heads when you get back on the road.
Volvo Genuine Parts
We know how important it is to outfit your car with the right equipment so it can operate at optimal levels no matter what the driving conditions might be. That's why we make it a point to use Volvo Genuine Parts whenever we're performing service.
Volvo Genuine Parts are designed specifically to maximize your vehicle's performance and ensure that everything functions like clockwork. It also helps increase the longevity of your car, so you can spend more time cruising down the road and less time getting maintenance.
Online Scheduling
We know how busy your life is, so we've made it easier than ever to experience our superior care and service. Whether you need your brakes replaced or an oil change, you can take care of it all with our online scheduling tool. Just fill out the quick and simple form, and you'll be on your way to experiencing our customer care for yourself!
And if your vehicle is going to need some quality time with our mechanics, you can still go about your day. We provide drivers with alternative transportation, so you don't have to miss a beat while we work on your vehicle.
Visit Our Service Center Today
Now that you know a bit more about our service center, why not schedule an appointment for your vehicle and see what we can do for you? Visit Scott Volvo Cars Allentown today to speak with our mechanics, schedule an appointment, and see how we can get your car performing like new!
We've helped drivers from Allentown, Bethlehem, Nazareth, and Emmaus, and we can't wait to help you too, so visit us today.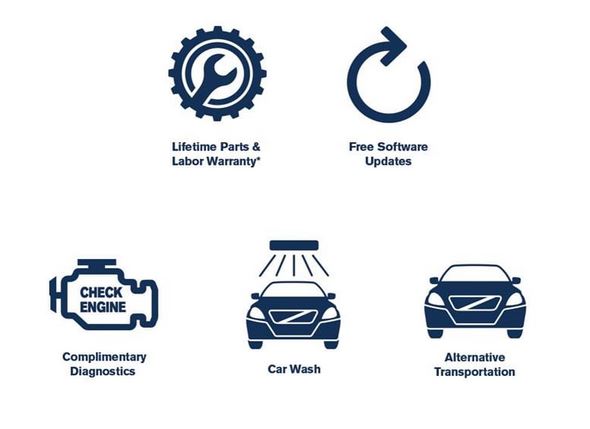 The focus is exclusively on you
Knowing your vehicle is always up to your highest standards for as long as you own it - that's the driving force behind Service by Volvo. Whether they're our expertly trained technicians, our field-tested repair methods, or Genuine Parts, we'll help you get the most out of your Volvo - whenever you bring it in for service or maintenance. That's because we focus on our promises to service your car and simplify your life