When you're shopping for a luxury sedan, there's no denying that the 2019 Volvo S60 and Audi A4 are both outstanding choices. With premium design qualities, high-tech features, and exceptional performance specs, it can be hard to choose just one.
Fortunately, Scott Volvo is here to help. We're pitting these two sedans against each other to help Allentown, Bethlehem, Nazareth, and Emmaus drivers decide which one to test drive. Read on to learn more about the 2019 Volvo S60 vs. Audi A4 in this review.
Related Post: 2019 Volvo S60 Review
Premium Interior Design
When you sit in the driver's seat of the 2019 Volvo S60, it's clear that a lot of thought went into the interior design and features. The dashboard and center console are streamlined and uncluttered, allowing you to focus on the South Mountain scenery.
The interior of the Audi A4, on the other hand, has a lot more going on and its controls aren't as user-friendly. This is especially evident in the 7-inch infotainment display, which juts out of the top of the dash. The 9-inch display in the Volvo S60 is unobtrusively integrated into the dash, where it doesn't interrupt the flow.
Additionally, the display touchscreen in the Volvo S60 is vertically oriented. This makes menu selections and navigation more streamlined. Meanwhile, the Audi A4 touchscreen sticks to the horizontal design commonly found in most vehicles.
Both premium sedans offer high-quality materials for their accents and inlays. For instance, a leather-wrapped gearshift comes standard in each one. However, Volvo also offers an exclusive handcrafted crystal gearshift knob by Orrefors® in the S60.
Comfort & Technology
No matter what the weather is, everyone inside the A4 can find a comfortable temperature thanks to 3-zone climate control. The S60 provides even more individualized comfort, though, with the 4-Zone Electronic Climate System. This also includes an air-conditioned glove compartment, so you can keep your cold-pressed juice fresh while you drive.
The comfort level increases even more when you upgrade the Volvo S60. Available backrest massage front seats keep you relaxed even on the longest drives, helping reduce tension in rush-hour traffic. This feature is not available in the Audi A4.
Performance Specs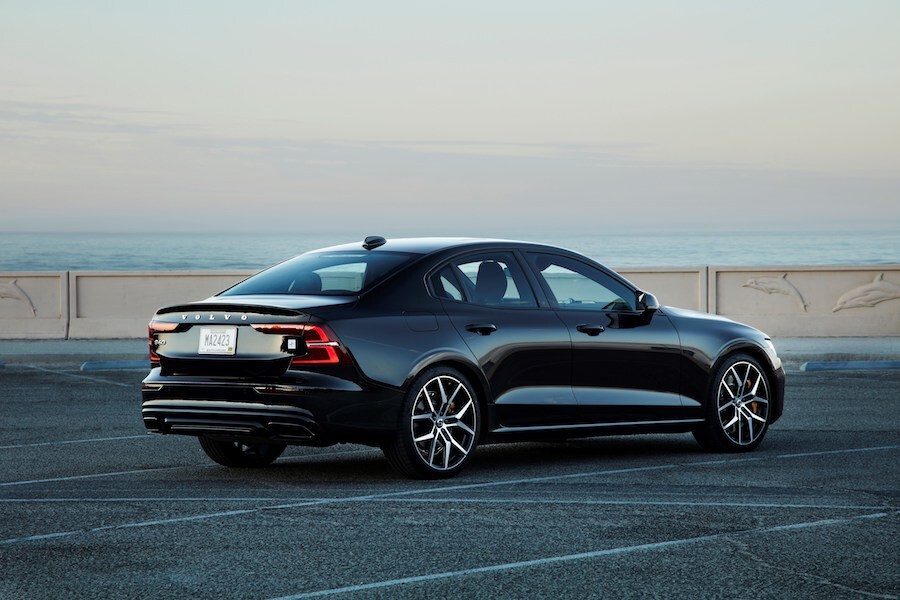 Both sedans have a sporty exterior, but the Volvo S60 follows up with three powerful engine options under the hood. Choose from:
T5: A turbocharged engine that generates 250 horsepower
T6: A turbocharged and supercharged engine providing 316 horsepower
T8: A turbocharged and supercharged engine complemented by an electric motor for up to 400 combined horsepower
The Audi A4 engines can't keep up with any of these options. There are two 2.0T options to choose from, with the standard 40 TFSI® providing 188 horsepower. Even the upgraded 45 TFSI® only generates 248 horsepower, which is still less than the Volvo baseline.
To top it off, the Volvo S60 T8 is a plug-in hybrid. That means that, in addition to offering extraordinary power, it also comes with increased fuel efficiency. You can even go up to an EPA-estimated 22 miles on the electric motor alone.
Test Drive Our Top Pick
There's a tight competition when it comes to the 2019 Volvo S60 vs. Audi A4. However, the Volvo S60 offers a more streamlined design and higher-performing engine options. Head to Scott Volvo to see this luxury sedan for yourself.
You could be driving the 2019 S60 around Allentown, Bethlehem, Nazareth, and Emmaus as soon as tonight. Contact us to schedule your test drive!